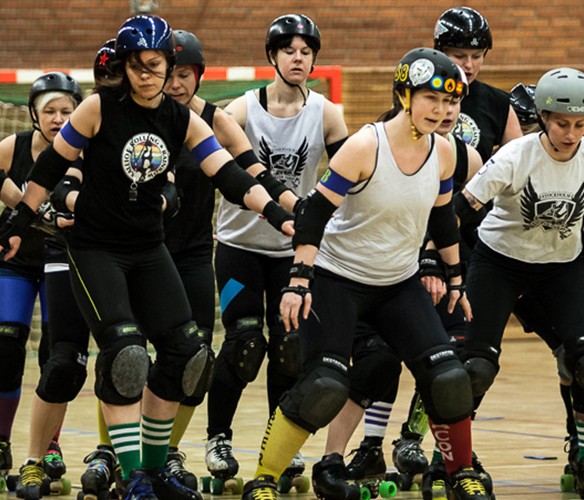 Vill du börja med roller derby?
Under sommaren 2013 kommer vi ha ett litet nybörjarprogram som riktar sig mot de som är intresserade, men inte har spelat rollerderby på tidigare, eller för dem som tidigare har försökt men känner att de vill börja om helt från början. Detta kostar inget, men man behöver ha sin egen utrusting.Träningen kommer att hållas 12.00 – 13.00 i Ekvallens Utomhusrink, Gustavsberg – om inget annat meddelas innan träningen. Träningen kommer att börja prick 12.00 – så var redo att BÖRJA träningen 12.00: Rullskridskor och alla skydd skall vara på! Ni bör även införskaffat ett tandskydd till träningarna.
Every practice will have a few minutes of skating in the opposite direction! And also a few minutes of skating backwards! Those classes assume that you will skate on your own or with your new buddies that you meet during the classes – when we don't offer classes. We might be able to add a few extra classes on-top of this, and please e-mail us if you have any questions regarding anything. coach@rollerderby.se
16th of June
CROSSOVERS, FORM and STOPS – pushing with both feet and body positioning, T-stops and plowstops
23rd of june (day after midsummer)
ANCELLED
30th of June
STOPS, TRANSITIONS and RECOVERY STRATEGY (kneetaps)
– proper T-stops, plowstops, explaining the foundations of TOT by working on transitions- controlled lowerings, tapping one of your knees on the ground
7th of July
Svenska Mästerskapen i Halmstad – CANCELLED
Vecka 28 och 29 har STRD ingen planerad träning (sommarlov)
28th of July
STEPPING and PACELINES
Stepping, footwork agility, skating on front wheels, back wheel, working on edges and simple pacelines recap of stops and transitions and kneetaps, reverse crossovers.
4th of August
SOCKDERBY, OFF-SKATE HITTING and AGILITY
Re-cap of crossovers and pacelines
11th of August
PACKWORK and COMMUNICATION
Skating close and moving in a pack – work with going through a not so tight pack, double pacelines, talking and skating at the same time, talking and looking around you.
Week 33
TRY-OUTS
Week 34
Fresh Meat program starts
Om du vill veta mer om våra try-outs – läs på vår tryouts-sida eller maila coach@rollerderby.se
Gå gärna med i vår Facebookgrupp för att hitta andra som är intresserade av att börja med rollerderby.