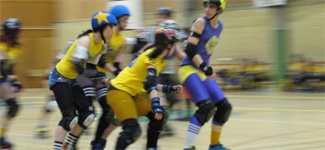 The birth of Swedish roller derby
We arrived in Malmo and it was awesome to feel the warmth of spring along with CCR,s hospitality as they had opened their homes to us all. This would be a momentous occasion as it would be the first bout in Sweden and competing were two teams from Sweden with many friendships crossing leagues. Despite being years in the making this was the birth of Swedish roller derby.
For us, playing this game would be no easy task, let alone winning, but our focus was on playing as a team and keeping our heads. CCR wanted to stamp a victory on their debut and they had the talent to do just that. We were was as ready as we could be despite a late roster change. With a small ref crew and no outside refs there was going to be much for either side to take issue with despite the best efforts of a fair officiating staff. This game sold out in one hour of tickets being on sale so you can only imagine the hard core ruckus crowd cheering both sides.
The first half was a back and forth struggle where one team often held a strong jammer lead. CCR had drawn first blood and held the edge but we were not going to lay down. We battled back to take a small lead before a monster jam erased the advantage. Pride was palpable as the chippy play would get most derbygirls off their game but everyone held tight through to the half.
It was in the second half where CCR put there foot down playing their best players hard and often in an attempt to put us to bed early. It certainly wore on our energy but only strengthened our resolve to push with everything we had saving nothing. But spirit alone would not win the day for us as the early lead CCR had earned in the second half could never be surmounted.
Our win two weeks earlier gave us confidence but this defeat hardened us as warriors. We embraced the adversity that was dealt to us and that was our victory. Tired players often get lost but we never lost heart even when there was so little left in the tank. We played our game, and there is nothing more anyone could ask of us.